Here Comes a Hike-A-Thon
08/29/23
To encourage more people to spend quality time outside – wherever and whenever they can – we're partnering with Nature Unplugged to host ranger-led hikes during their October 2023 Hike-a-Thon. More...
Old 97 to Reopen
08/15/23
From late summer to early fall, DPR conservatively opens a 6-mile out-and-back trail in a secluded part of the Ramona Grasslands, named the Old Survey Road 97 Trail. More...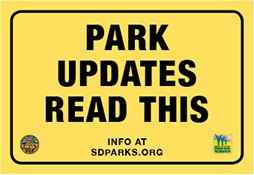 Park Updates
Sometimes we close parks because of rain, to complete maintenance projects or to add a new amenity. Scroll down to see what's open and to view other helpful information.
More...
New Features Coming to Waterfront
08/24/23
At 1 p.m. on Wednesday, Aug. 30, County officials will break ground on new sports courts, a dog park, seating and accessible paths at Waterfront Park in downtown San Diego. More...
'Ride On' Mountain Bikers
Hit the trails for our Ride On Mountain Biking Challenge! This multi-agency project explores popular trails at County parks and preserves, with beginner and intermediate options. Ride solo, with a group or with experts at planned meetups. More...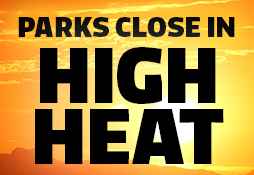 Parks Close in High Heat
08/01/23
It's August, and temperatures are hitting triple digits in parts of San Diego County. This happens every year, and we prepare for the heat by planning fewer daytime and more nighttime activities, activating our nature and community centers as Cool Zones, and by temporarily closing several parks. More...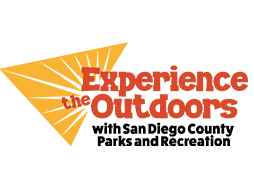 Good Numbers in the Great Outdoors
07/03/23
Experience the Outdoors launched in 2022 as a way to improve awareness of, and to boost equity, inclusivity and accessibility in, park programs. Part of the Board of Supervisors State of the County Address, it's an action plan for regional recreation. More...
Earth Day 2023
04/11/23
Every day is Earth Day at the County of San Diego Department of Parks and Recreation. But once a year – on April 22, Earth Day – we join a nationwide movement of agencies, organizations and people, to participate in eco-friendly volunteer projects, nature-themed education events and outdoor enrichment opportunities. More...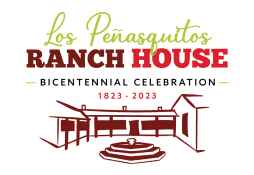 Be There for the Bicentennial
02/01/23
Join us as we pay tribute to two centuries of farming, ranching, learning and living local! On Saturday, Feb. 11, we will be celebrating the bicentennial of Los Penasquitos Ranch House. More...
Free Camping for First Timers
10/19/22
Within the County of San Diego's Sustainability initiative is the goal to preserve, protect, maintain and cultivate natural environments where residents, visitors and future generations can spend quality time outside. More...
Hope for the Holidays
11/23/22
Help us help San Diegans in need by donating unopened food at one of our parks. This is part of a larger County-wide drive to collect 4,000 pounds of food! More...
Green Friday: 2022 Lineup
11/14/22
Join us Friday, Nov. 25 for a region-wide celebration of outdoor spaces on a holiday we call Green Friday. Morning, noon and night, our staff have planned 10 special events at parks across San Diego, where you can learn about, enjoy and give back to nature. More...
Operators Wanted
11/15/22
The County of San Diego is currently seeking bids for operators of a new equestrian property in Lakeside, CA – slated for completion in Summer 2023. More...
How's your Hawktober?
10/01/22
Throughout the month of October, we celebrate our local birds of prey, their amazing adaptations and the important roles they play in the wild via 17 live shows at parks across San Diego. More...
Experience the Outdoors with Us
06/30/22
Happy Parks and Recreation Month! This is one of our favorite times of the year, made even better in 2022 with the launch of an Experience the Outdoors Program and three additional campaigns to boost park awareness and to provide more inclusive, equitable and accessible park experiences. More...
Rad Regional Parks
The diversity in our park system makes it possible to spend the morning at the coast, the afternoon in the valley and the evening in the mountains or desert. Every one of our properties has a story to tell, and an extensive list of features. More...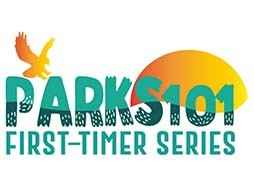 Learn the Basics
Being a beginner is better than an expert in this new series dedicated to sharing recreation tips, tricks and best practices. Our knowledgeable staff are eager to provide you with the info you need to feel confident in the great outdoors. More...
Earth Day 2022
03/25/22
San Diego is a biodiversity hotspot, and the daily actions of the County Parks and Recreation team help to safeguard our region's native plants and trees, air and water quality, and unique habitats for hundreds of species. More...
Find Eggs, Play Games, Eat Cakes & Meet Bunnies
04/05/22
Eggs-cuse me? Are you looking for springtime activities to get the family outdoors? "Chick" us out! County Parks and Recreation has six "Egg-citing" Spring events lined up, to help you celebrate the new season. More...
Reservoir User Survey
03/09/22
In conjunction with other agencies and under the leadership of County Supervisor Joel Anderson, County Parks and Recreation has launched a new survey to gauge public interest in recreation amenities and offerings at our region's reservoirs. More...
River Park Trail
03/09/22
The San Diego River stretches 52 miles from its headwaters in the Cuyamaca Mountains near Julian to its mouth at the Pacific Ocean in San Diego. The County Department of Parks and Recreation (DPR) is involved in efforts to preserve, restore and enhance the San Diego River and surrounding areas with regional conservancies, cities, foundations, land use developers and others. One of these efforts is to create a continuous trail along the San Diego River to provide residents and visitors with an opportunity to explore and appreciate this unique resource. This is the San Diego River Park and Trail project. More...
Say Hello to Your Champions!
11/12/21
We are pleased to announce the winners of the 2020-2021 Parks and Recreation Champion Awards program: Lesley Handa, Greg Schuett, Marisa Paige Butler, Karen Ogden, and Mark DeGraffenreid! More...
Lincoln Acres Reopens Bigger, Better
On Saturday, Aug. 28, 2021, the County of San Diego Department of Parks and Recreation (DPR) is celebrating the grand re-opening of Lincoln Acres County Park! The park has been expanded to 1.5 acres and revamped with upgraded amenities and new recreation opportunities for residents of all ages, abilities and interests. More...
Halloween Happenings in County Parks
10/14/21
Are you ready for eerily entertaining experiences in parks? You've come to the right place! The County Parks and Recreation team has planned 10 ghoulishly great events to celebrate the Halloween season. More...
Nominate a Champion
09/10/21
We're proud to announce the call for nominations for our fifth annual Parks and Recreation Champion Awards! Recipients of these awards are people who have made a difference in local parks, preserves and community programs, throughout San Diego. More...
Happy Hawktober
10/01/21
We're back with 14 events at parks across San Diego, where you can meet live birds of prey like hawks, owls and falcons – thanks to expert staff, rehabilitated raptors and a vibrant animal ambassador program. More...
Earth Week 2021
We're joining nearly a thousand organizations in 192 countries across the globe to celebrate Earth Day 2021! This year's theme is "Together, we will restore our earth."

The theme is based on a concept that rejects the idea that our only options to save the planet are to mitigate or adapt to the impacts of climate change and other environmental damage. More...
Live Oak Centennial+1 Celebration
On Saturday, July 17, 2021, we're celebrating the 101st birthday of Live Oak County Park! The event, which runs from 9:30 a.m. until 9 p.m. includes a day full of activities that are sure to appease visitors of all ages and interests. More...
Park-ology
We've designed a new web portal for teens to foster better park knowledge, visitation and participation in park events! Park-ology is a free, cloud-based education tool designed to teach teens, ages 14 to 18, about the parks and recreation industry. More...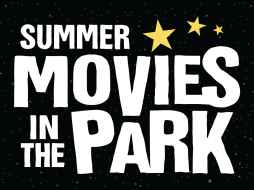 Choose Your Own Movie Adventure
We're back with new movies, new parks and a refreshing twist on outdoor movie screenings. Summer Movies in the Park is launching in 2021 as a hybrid series with showings on lawns, from cars and online via a secret access code. These changes align with public health guidelines and add variety to the movie calendar… so you can truly choose your own movie adventure! More...
2 Grand Opening Events
Join us April 28 as we open two state-of-the-art park amenities in south San Diego County: A campground at Tijuana River Valley Regional Park and the Greg Cox Bike Park in Chula Vista – part of Otay Valley Regional Park. More...
A Winning Way to Tour Trails
Our Tour Our Trails Challenge. is comprised of 15 hikes, highlighting some of rangers' favorite hiking destinations in San Diego. The progressive series begins with five easy trails, moves into five that are intermediate and finishes with five that are considered tough - with prizes along the way!
More...
Move with us in May
We're excited to partner with Live Well San Diego on their first-ever Live Well Trails Challenge. Five unique park destinations – all part of our own Tour Our Trails Challenge – have been selected to be included in a weekly hiking series. More...
Safety is Our Priority
The County is working to protect the public's health in the face of COVID-19 by taking actions to help slow the spread of the virus. Parks and preserves remain open, though some on-site amenities have been closed for your protection. More...
Women's Month 2021
Women's Month celebrates the social, economic, cultural and political achievements of women – challenging biases and misconceptions to create a more inclusive, gender-equal world. More...
Celebrate Green Friday
On the day after Thanksgiving, County Parks encourages San Diegans to swap shopping plans for outdoor experiences. We celebrate the 'upside of outside' with family-friendly activities in parks and preserves across the region, on a holiday we've coined Green Friday! More...
Needs Assessment Survey
The County of San Diego Department of Parks and Recreation (DPR) conducts a needs assessment survey every 5 years to help us understand trends within the community– giving us insight on what amenities can be improved, and what we should plan for in the future. More...
Live Oak Turns 100
07/15/20
This Friday, Live Oak County Park turns 100! To celebrate this milestone, we're waiving day-use parking fees at the park for the entire weekend – Friday through Sunday, July 17 to 19, 2020.
More...
Annual August County Park Closures
07/29/20
Six San Diego County parks will be closed in August, a safety measure taken each year because of the month's typically high temperatures. El Capitan Preserve near Lakeside, Hellhole Canyon Preserve in Valley Center, Mt. Gower Preserve near Ramona and Wilderness Gardens in Pala will be closed Aug. 1 through Aug. 31. In addition, Agua Caliente Regional Park in Anza Borrego and Vallecito County Park near Julian are closed all summer; they reopen Labor Day weekend.
More...
Now Presenting: Summer Movies… at Home!
07/02/20
After a decade of celebrating the summertime with film screenings at hundreds of park locales, our program was put to a halt due to COVID-19 measures. While we plan on welcoming our guests back in 2021, we have revamped our program this season so that movie-goers like you can attend our events virtually from the comfort of your own home.
More...
Enroll in Summer Camps
06/11/20
Children day-camps are back, just in time for summer! Fallbrook and Spring Valley Community Centers are offering four weekly programs, providing kids with the opportunity to socialize, play and build self-confidence. Each week focuses on a different topic, such as sports, science, arts and crafts, and more. Advanced registration is required.
More...
Campgrounds are Open
06/10/20
Public Health Officials have relaxed restrictions on County campgrounds. Beginning Friday, June 12, nearly all our campsites that were previously closed due to COVID-19 will now be open – including cabins.
More...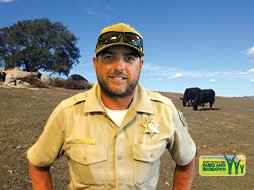 Set Your Scene with Park Backgrounds
05/01/20
Communication has changed in the wake of COVID-19. Activities and events that were once face-to-face are now virtual, via video conferencing technology, Facebook Live and other online channels.
More...
Summer Movies Reinvented in 2020
05/29/20
After more than a decade of free, family-friendly movies in parks after dark, our Summer Movies in the Park program will take a brief break. This is a temporary measure due to COVID-19, and one that will allow us to brainstorm ideas to make the 2021 season bigger and better than ever!
More...
Earth Week 2020
04/17/20
This year marks the 50th anniversary of Earth Day! Join us the week of April 22 as we pay tribute to decades of projects that promote sustainability, smart growth and the protection of our land and local wildlife.
More...
Time for Trivia!
03/29/20
How well do you know your San Diego County parks and preserves? Find out when you participate in our first-ever shelter-in-place trivia competition!
More...
MSCP: What to Watch for in 2020
02/05/20
We're poised to welcome big wins in resource conservation, with audacious goals and a regional vision that envelopes hundreds of native plant, tree and animal species.
Now in its 23rd year, the Multiple Species Conservation Program (MSCP) works across political boundaries – providing a partner list and action plan for County-wide conservation efforts.
More...
Work of a County Conservationist
02/25/20
San Diego is a biodiversity hotspot. In fact, 85 species are covered under the South County Subarea Plan of the Multiple Species Conservation Program (MSCP). The North County Plan is drafted, and the East County Plan is proposed – but each will list their own set of species and habitats that DPR can, and should, protect.
More...
San Dieguito's Inclusive Play Space
02/19/20
Outdoor play is essential to children's physical, social and cognitive development. Unfortunately, not all play areas are created equal, and multi-structural playgrounds can be a challenge for children struggling with mobility issues.
More...
The Bike Park is Open
01/04/20
On Saturday, Jan. 4, the County of San Diego Department of Parks and Recreation with County Supervisor Greg Cox opened the region's first bike skills park: Sweetwater Bike Park in Bonita.
More...
Explore Our New Nature Center
12/17/19
On Saturday, Dec. 14, County Board of Supervisors Chairwoman Dianne Jacob and the County of San Diego Department of Parks and Recreation opened a new Nature Center in Santa Ysabel.
More...
Welcome, Women in the Wild
08/19/19
The County of San Diego Department of Parks and Recreation (DPR) recently launched a new program: Women in the Wild.
This unique approach to programming is in direct response to industry research, which shows women are interested – and see value – in outdoor experiences, but various barriers stand in their way of enjoying nature as often as men. DPR aims to reverse that trend.
More...
Less Screen Time; More Green Time
Today, kids are spending more time looking at screens and less time looking up, exploring the great outdoors. Studies have shown that kids spend an average of 7.65 hours per day "plugged in" – and only 7 minutes per day in unstructured outdoor play. Over time, these habits can take a toll on children's mental and physical health, leading to problems like emotional distress, anxiety – even obesity.
More...
Are you prepared?
Only 38 percent of San Diego County residents have an emergency plan, according to a recent study conducted by the Office of Emergency Services. That means more than half of our population may not be ready to deal with serious situations where communications are limited and basic services like electricity, gas, water and phones are cut off.
More...
8 Holiday Dates
December is here, and County Parks and Recreation has eight events that are sure to spark some holiday spirit. Festivities kick off with a traditional tree lighting ceremony in Fallbrook, followed by plenty of meet-and-greets with Santa Claus across the County.
More...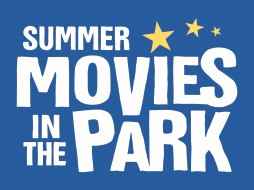 Themed Movie Nights in Parks
Presented by Rose SD Realty, Summer Movies in the Park is the largest free, outdoor movie series in San Diego – and this year is no exception. The 2019 season is jam-packed with action and adventure, comedy, drama, fantasy, horror and romance!
More...
Secret Picnic Spots in County Parks
Celebrate International Picnic Day with a nice meal in the great outdoors! Here are a few secret picnic spots across San Diego County, as recommended by our very own park rangers.
More...
Bike Park - Coming Soon!
We're adding a bike park to our list of park amenities at Sweetwater Summit Regional Park. Designed in collaboration with the cyclist community, the park will offer a variety of trails and special features to appeal to riders of all skill levels.
More...
Say 'Hello' to Your 2019 Parks and Recreation Champions
Congratulations to the winners of the 2019 Parks and Recreation Champion Awards! Six honorees received accolades at the fourth annual event, which took place Thursday, July 11 at Heritage County Park.
More...
A Garden for Sweetwater
In Spring 2019, County Parks will be opening a community garden at Sweetwater Summit Regional Park. The garden will include approximately 200 reservable plots - available in two popular sizes.
More...
Safe Destinations for Teens
Franklin Delano Roosevelt once said, "We cannot always build the future for our youth, but we can build our youth for the future." That's the ideology behind a new program managed by County Parks in conjunction with other cities across San Diego.
SD Nights – short for Safe Destination Nights – provide safe places where teens can recreate during critical hours.
More...
So Easy to Hike...
County Parks launched a new trails app that makes it even easier to get information on hiking, biking and riding paths in our parks and preserves.Easy2Hike is a free app that allows users to locate and view trailheads, park maps and points of interest in Southern California and beyond.
More...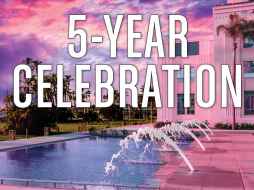 WFP Celebrates 5 Years
04/22/19
Please join us for a very special celebration as we commemorate 5 years of service to the San Diego Community! Waterfront Park's 5-year anniversary celebration is slated to take place from 3 to 10 p.m. on Friday, May 10.
More...
Postcards on Sale!
In honor of Earth Month, we're selling postcards representing some of our most popular parks and preserves. Each set contains 12 custom-designed postcards featuring imagery, information and space to share your park experiences. More...
Our New Butterfly Garden
The Butterfly Garden at San Dieguito County Park opened to the public in May 2018. Located at the Northern end of the lower park, the garden is home to an assortment of blooming plants that attract a number of butterflies, hummingbirds and bees, daily.
More...
Hiking on Hot Days
Summertime is here, along with some pretty warm temperatures. If you aim to hike in one of San Diego's inland areas, it's important to know the risks so you can plan ahead. More...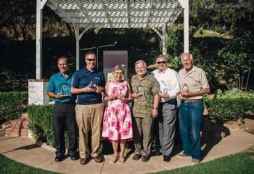 Congrats, County Champions!
In celebration of July as National Parks and Recreation Month, and in the spirit of environmental stewardship and promoting healthy active lifestyles, we hosted our annual Parks and Recreation Champion Awards banquet on July 11, 2018 at Heritage County Park.
More...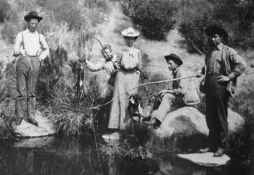 100 Years of Park Memories
Whether you're a local-history aficionado or your only familiarity with the term "parks and recreation" is from a TV sitcom, we've published a brand new book highlighting 100 years of park history!
More...
Off Road with Google
You can now access 10 County parks and preserves via a new version of Google Street View that takes users off-roading, on trails, in outdoor spaces across the U.S., from the comfort of their computer screen.
More...
Trail Extensions Coming Soon
You may have noticed the signs along the interstate, or at trailheads in areas surrounding the San Elijo Lagoon. In conjunction with Caltrans, SANDAG, Transnet, North County Transit District, 511, California Fish and Wildlife, and the San Elijo Lagoon Conservancy, County Parks is gearing up for improved access along the north coast corridor. More...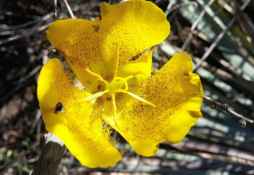 Preservation, Recreation and the MSCP
On Aug. 30, County Parks and Recreation participated in workshop to discuss the status of species preservation in San Diego. Nearly 200 people attended the event at the Ocean Air Recreation Center, representing local government agencies, community groups, volunteers and residents.
More...
Meet Your 2017 Champions
On Tuesday, July 18, we inducted a new list of distinguished honorees to our Park Champions hall of fame! Congratulations to our winner, Barbara Wallach, and to all four of our finalists: Sheila Alston, Patty Morton, Jennifer Palkovic and Mike Thacker.
More...
Fill Your Day Pack With Fuel
Bring snacks and plenty of water when you hike any of the County's 350+ miles of trails. Here are some tips to help you prepare for your next outdoor excursion. Plan ahead for maximum enjoyment! More...
What To Eat and Drink Before and After a Hike
Give your body what it needs when you plan on hitting the trails in our parks and preserves. Here are some tips on what to eat and drink, both before a hike and after you're done. More...
12 Trails to Try in 2017
We connected with Scott Turner, outdoor enthusiast, Modern Hiker contributor and co-author for the next edition of Afoot & Afield in San Diego County (hitting shelves this March!) to get a short list of trails to try in the new year. Here are his recommendations, by month, at parks and preserves across San Diego. We hope you will join him, and the rest of the County Parks team, as we "take a hike" in 2017! More...
BYO... Boat
That's right; we're reopening the boat launch at Lake Morena County Park. For several years, the boat launch was closed to the public due to low water levels. Now, thanks to recent rains, the reservoir is high enough to meet boats and the end of the launch for safe entry. More...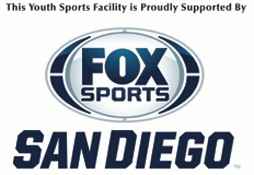 Youth Sports, Meet Fox Sports
We're proud to announce a new partnership between the County of San Diego Department of Parks and Recreation and Fox Sports San Diego. Dollars generated through this new partnership support things like capital improvements, park updates and other high-priority projects that benefit local recreation and preservation efforts. More...
22.5 Miles of Trails + a New Overlook at TRVRP
On Saturday, June 11, the County celebrated the grand opening of a newly restored 22.5 mile trail system for hikers, mountain bikers and equestrians at Tijuana River Valley Regional Park (TRVRP). More...
New Trails for Otay
On Thursday, March 14, 2017, County Parks coordinated a public workshop to gather input on a new trail plan for Otay Valley. About 70 people attended the event including local residents, business owners, partner organizations and County staff.
More...
COVID-19 Frequently Asked Questions
05/15/20
The County is working to protect the public's health in the face of COVID-19 by taking actions to help slow the spread of the virus. Below is a list of our most frequently asked questions with answers.
Check back regularly as guidelines change, based on the dynamic nature of this situation.
More...
Ramona Hiking Challenge
Looking for a fun challenge to get you outside and moving? We've got just the one for you! Discover some of the best trails that Ramona has to offer by participating in the Ramona Hiking Challenge.
More...