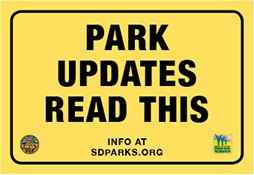 Park Updates
Sometimes we close parks because of rain, to complete maintenance projects or to add a new amenity. Scroll down to see what's open and to view other helpful information.

Click here for COVID-19 updates.
Temporary Closures
The following park areas are closed:  
The fountains and reflecting pools at  Waterfront Park will not be operating from Nov. 27 at 7 p.m. until Dec. 21 at 10:30 a.m. for annual maintenance.

The jets in the indoor pool at Agua Caliente County Park are not working, but the pool remains open. Park staff are working to remedy the issue.  

We're making updates to playgrounds in our 4S Ranch-area parks. During this time, the following playgrounds will be closed: 8/9 - 10/18, 4S Ranch Heritage Park; 8/23 - 10/18, 4S Ranch Homestead Park; 9/7 - 11/30, 4S Ranch Community Park. Thank you for your patience as we work to improve your recreation experience. 
San Elijo Lagoon: Beginning Aug. 9, the Pole trail/road will be closed for material hauling through N. Rios Trailhead - part of the overarching revitalization project. The entire Pole trail will be closed to pedestrians during this time, with completion expected in late September. Additional info below.
Whitaker Estate: Property repairs will take place beginning Aug. 15, 2021. During this time, roads may be temporarily closed for resurfacing and other maintenance projects. Trails may also be affected and the end destination of the Whitaker House may not be available. Please obey all posted signs as we work to improve your park experience. For more information, contact Region Manager Johanna Salomon at 858-966-1330. 

Lake Morena County Park: Due to issues with a potable water storage tank which occurred July 14, 2021, the State Water Resources Control Board, Division of Drinking Water, the San Diego County Health Department, and the Lake Morena County Park Water System are advising visitors/campers to use boiled tap water or bottled water for drinking and cooking purposes.  Drinking fountains are closed. Water spigots, sinks and toilets remain open, but there is no drinking water on site. Please plan ahead by bringing your own drinking water. This is a safety precaution to prevent stomach or intestinal illness. If you have questions about other uses of tap water, such as bathing and dish washing, please call your water system or read this guidance. 

County Cool Zones: Beginning Tuesday, 6/15, the following County Parks' facilities will serve as Cool Zones:  Fallbrook Community Center (Monday – Friday, 9 a.m. – 6:30 p.m.),  Lakeside Community Center (Monday – Friday, 12 – 5 p.m.),  Spring Valley Community Center  (Monday – Thursday, 11 a.m. – 8 p.m., Friday, 11 a.m. – 5 p.m.),  Santa Ysabel Nature Center (Monday – Thursday, 10 a.m. – 6 p.m., Friday – Sunday, 9 a.m. – 7 p.m. Click here to find other sites.
Hours: County Parks are open year-round, however, per policy C-7, parking lot gates, park offices and restrooms will be closed on Dec. 25. All sites remain open to foot, horse and bike traffic. In addition, campgrounds remain open and will be in full operation with available parking, restrooms and staffed park offices on Dec. 25. 
Rodenticides: Rodenticides are a mitigation measure. Certain rodents, namely gophers and ground squirrels, present a risk to park infrastructure and users in developed areas , such as active recreational sites, picnic areas and campgrounds. Tunnels and holes created by rodents can undermine improvements such as sidewalks, trails and pathways, and holes and mounds of dirt created as a result of tunneling activity present a tripping hazard for park users, rendering areas unsafe. The use of rodenticides by County Parks is conducted following all County, State and Federal policies, rules, regulations, laws, labels and administrative procedures. The work is performed by private trained pest control businesses/licensed applicators. Applicators seek to minimize potential exposure to other species. The treatment for gophers is applied underground in their tunnels and the treatment for squirrels uses enclosed bait stations. Both methods minimize the potential for access from other animals. County Parks does not use rodenticides in non-public use areas of parks or in open space areas.

Showers: In conjunction with the County's water-conservation measures, coin-operated shower fixtures have been installed at the following campgrounds: Agua Caliente, Vallecito, Dos Picos, William Heise, Guajome Regional, Potrero and Lake Morena. Fixtures take quarters and cost 50 cents for 4 minutes of shower time. Quarters are available at the Ranger stations. The showers at Sweewtater Summit are different in that they take tokens - not quarters - but the rate is the same, with four tokens per dollar. Tokens are available at the Ranger Station. 
Electronic Bikes: The Department has restricted the use of e-bikes on various bicycle paths and trails at County parks/preserves. Click here to learn more information.
Lakeside River Trail: The Lakeside River Park organization is making improvements to the Lakeside River Trail. While equipment is on site, and crews are working, the trail may be limited to pedestrian traffic. Safety is a priority at County Parks - please obey all posted signs.
San Elijo Lagoon Ecological Reserve: Pole Trail Intermittent Closures for Upcoming Soil Hauling Along North Rios Avenue. As part of the San Elijo Lagoon Restoration Project, visitors are advised that the access points to Pole Trail will be closed intermittently. Caltrans and SANDAG Build NCC restoration crews will conduct vehicle trips along North Rios Avenue to transport soil via the Pole Trail trailhead. These efforts help to boost planting efforts and lagoon restoration that will create new wildlife habitats. Vehicle trips will begin the week of Monday, Aug. 9, and continue Monday through Friday intermittently through September 2021 between the hours of 8 a.m.- 6 p.m. Please note, access points to the Pole Trail will be open outside of hauling hours. Nearby residents and businesses can expect daytime construction noise, including Occupational Safety and Health Administration (OSHA) required vehicle back-up alarms. Restoration crews will take all necessary steps to reduce noise and disruption when traveling north and south along North Rios Avenue. Motorists on North Rios Avenue will be detoured with signage and traffic controls. View the closure map.
Lindo Lake County Park: 
Lindo Lake is the only natural lake in the County, and with that comes complications – things like limited well water, stormwater runoff, and prolonged drought. Two water quality control measures have already been implemented to filter run-off that enters the lake from the west and south sides: One is a bio-swale and underground sediment retention basin and the other is a modular wetland system that filters the water before it enters the lake. We are also being proactive by spraying a non-toxic solution on the water in the west basin that is designed to alleviate odors associated with naturally decomposing vegetation. If you see a ranger in a boat, that is likely what they're working on. These efforts are part of a long-term restoration project at Lindo Lake. Over the next few years, we will be dredging the east and west basin, adding water, installing a temporary then permanent aeration system and water movement system, and completing additional run-off control measures. These changes will increase water depth, curb algae growth, and improve the health and safety of the lake and its inhabitants.
Cultural Monitoring: The soil that is being dredged from the basins as part of the long-term revitalization project is not native and does not have a potential to contain prehistoric resources. Staff routinely check the soil to document its contents and ensure additional monitoring is not needed.  
Toxins from algae are present in the water of Lindo Lake. Per County Ordinance 41.132, swimming, bathing and boating are prohibited. For your safety, and for the safety of your pets, please do not let pets go into or drink the water, eat fish from the water, or use water for drinking or cooking. Thank you for your cooperation. For more information, call 858-966-1330.
San Elijo Lagoon and Ecological Reserve: I-5 underpass trail and Solana Hills trail along I-5 will be closed during a multi-year, phased construction project. For more information, call the park at 760-634-3026.
Sweetwater Summit Regional Park: We recently completed work on the Sweetwater Loop and River Trail, thanks to a collaborative effort between the County of San Diego, the U.S. Fish and Wildlife Service and Sweetwater Authority. This portion of the trail (approximately 1.3 miles) was rerouted to protect sensitive habitats while maintaining access and recreation opportunities. Please obey all posted signs so we can continue to keep this trail open for your enjoyment. For more information, please call the park at (619) 472-7572.
Sycamore Canyon/Goodan Ranch: Improving the County's 350+ mile trail system is a priority for the San Diego County Department of Parks and Recreation, and efforts to expand trail access are balanced by efforts to preserve sensitive habitats and culturally significant areas. Over the years, a number of unauthorized trails have appeared in Sycamore Canyon/Goodan Ranch County Preserve. These trails negatively affect these areas and can cause harm to plants, animals and other resources. You may notice signs and other barricades blocking access to these unauthorized trails. Please stay on trail and only in authorized areas as we work to protect this urban oasis.