A Home Run Weekend at Waterfront
MLB Weekend was a busy one for Waterfront Park, which saw approximately 12,000 visitors over a three-day span. Three themed events were held at the park to celebrate America's favorite pastime. More...
Provence House – Be our Guest!
One of our newest and most unique properties is Provence House – located in Bonita, adjacent to Rohr Park and just a couple of minutes east of the 805 freeway. Provence House is a versatile, charming addition to the County Parks portfolio. Built as a private residence in the late 1940s, the home has gone through several transformations; as a park ranger office, a history center, and as a central meeting space for local community groups. Recent updates to the property have expanded its potential for hosting special events. More...
Pull up a seat at El Monte!
When was the last time you enjoyed a little history with your sack lunch? Did you know you could do it in a County Park, at one of the region's oldest park properties? Lakeside's El Monte County Park tells stories of days past – with prohibition-era cement picnic tables and plaques honoring local legends. More...
Fitness Routines at Your Fingertips
The QR Code Fitness Trail combines today's technology with a personal physical fitness program. It's fun, interactive and simple to follow – just one more way the County of San Diego Department of Parks and Recreation (DPR) is making it easy for people to live healthy, active lifestyles in San Diego County. More...
Kudos to Marketing
In July, County Parks won the National Recreation and Park Association's (NRPA) Kudos Marketing Award. This is a big win for the team, and for all of the branding efforts that have been launched over the past year. More...
Happy National Public Lands Day!
We encourage you to spend some time outdoors, especially this weekend… Saturday, Sept. 24 is National Public Lands Day, and we're celebrating with kid-friendly ranger-led hikes at all five of our TRACK Trails locations! More...
VIP Tours through the Ramona Grasslands
For a limited time, hikers, bikers and equestrians have special access to parts of the Ramona Grasslands County Preserve that are usually closed to the public. The Saturday morning tours, led by volunteer docents and/or park staff, last 2 hours and venture through northwest sections of the preserve via a trail called Old Survey Road. More...
Meet our Regional Industry Champions
On Wednesday, July 20, and in celebration of National Parks and Recreation Month, the County of San Diego Department of Parks and Recreation (DPR) unveiled the winners of first-ever, regional Parks and Recreation Champion Awards program. More...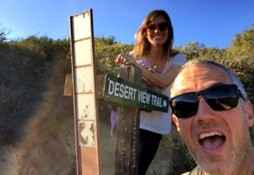 A Fresh New Look for sdparks.org
Welcome to our brand new website! We're putting the finishing touches on a couple of things, but we just couldn't wait to start sharing our improved design with you. Content has been organized by function with quick links, easy navigation, a robust park finder map. More...
Ranger Academy Graduates 51 Park Staff
On Wednesday, Sept. 21, we celebrated the graduation of 51 park staff who participated in Park Ranger Academy – a robust, 8-week program that covers programs, policies and best practices for park and recreation professionals. Participants represented parks across San Diego County. More...
Earth Day Weekend
Mark your calendars – we've planned free fun for the whole family at locations across San Diego! County Parks is celebrating Earth Day with a series of outdoor events. Read on to get the scoop. More...
Parks March Madness
In sync with the NCAA's March Madness tournament, the County Parks team scheduled a championship bracket featuring parks and preserves across San Diego. Top places to play went head-to-head on social media for several weeks - and the public got to play favorites. More...
Summer Movies in the Park
County Parks will once again be teaming up with the cities of San Diego, Chula Vista, National City, La Mesa, Vista, San Marcos, Oceanside, Poway, Lemon Grove, El Cajon and other jurisdictions to host a movies in parks across San Diego. These events are free and family-friendly, with dozens of titles to choose from. More...
#2016bestnine
It was a picturesque year for Parks and Recreation on San Diego County's Instagram channel. Our #2016bestnine Parks images - or the nine most popular/liked pictures - included scenes from Goodan Ranch-Sycamore Canyon, Heise, Los Penasquitos Canyon, Potrero, San Elijo Lagoon Ecological Reserve, Volcan Mountain and Waterfront Park. Take a look! More...
Invasive Species
Invasive species are plants, fungi or animals that are not native to a specific location. They disrupt the local ecosystem, changing processes that have been in play for decades – many causing harm to the areas they invade. More...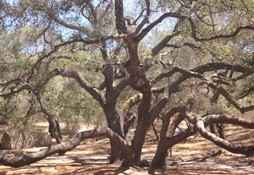 Heritage Tree Preservation Program
We're doing what we can to protect our trees and to be forward-thinking when it comes to ways to save them. Our county-wide Heritage Tree Preservation Program was initiated to catalog existing mature trees and to establish requirements for maintaining tree diversity and density in all County Parks. More...
Live Well Every Day
We're doing our part to create a stronger, healthier and more balanced region. We continually seek new recreation opportunities for residents of all ages, interests and abilities. And we're especially excited to share these options with you at the wake of a new year! More...
Call for Nominations for 2017 Parks Champion Awards
We're proud to announce the opening of the nomination period for the second annual Parks Champion Awards program. The awards recognize local champions for their work in education and environmental ambassadorship for parks and outdoor spaces across San Diego County. More...
Have you hiked the ACT?
One of the wildest stretches of the San Elijo Lagoon Ecological Preserve has been tamed – just enough for it to open to the public, offering new views and enhanced recreation opportunities. More...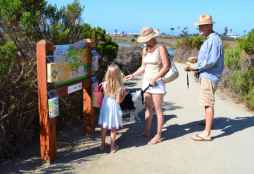 New Trails for App-Happy Kids
We've opened three new TRACK Trails for "app-happy" kids at County Parks. Over six miles of interactive education have been routed through San Dieguito County Park and Lake Morena County Park – adding to an existing trail network that includes San Elijo Lagoon Ecological Reserve, Louis A. Stelzer County Park and Lindo Lake County Park. More...
County Parks Warrior Hike Challenge
Celebrate the holiday weekend with an unforgettable hike to the top of El Capitan. We're hosting a Veterans Day Weekend Warrior Hike on Nov. 11 - designed to "wow" and challenge local heroes and their families. Come to hike or support your military! View the event flyer.
More...
Private Tours in the Grasslands
For a limited time, hikers and equestrians have special access to the northwest portion of the Ramona Grasslands County Preserve – an area that is closed the rest of the year to protect sensitive bird species during breeding season. The tours, led by volunteer docents and park staff, run from 9 a.m. until noon.
More...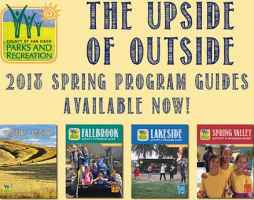 New Year, New Programs
Happy New Year, San Diego! We're excited to share a new round of Activity & Program Guides with you – highlighting fun for the whole family, from January to June.
Featuring hundreds of classes, camps, hikes, educational activities and special events, these seasonal guides are a great way to plan your day, weekend – even your month!
More...
Come to Superhero Cinema
Join the festivities in Downtown San Diego – no badge required! We're showing "The Incredibles" at Waterfront Park – part of a very special "Superhero Cinema" event taking place Saturday, July 21, from 6 to 10 p.m.
More...
The MSCP Turns 20!
You're invited! The Multiple Species Conservation Program (MSCP) protects and connects the most valuable biological habitats in San Diego County, and on Saturday, Nov. 3, we're celebrating the program's 20-year anniversary with history tours, hikes, a bike ride, interpretive programs, animal demonstrations, games, food trucks, live music and more.
More...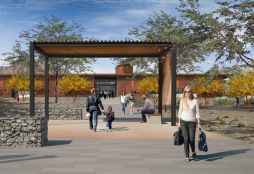 Big 3 at Borrego Springs
Join San Diego County Supervisor Bill Horn and special guests for a ribbon-cutting ceremony and grand opening celebration for three new amenities in Borrego Springs: A Library, Park and Sheriff's Office. The event takes place 12 to 3 p.m., Saturday, Dec. 8, 2018.
More...
5 Great Ways to Enjoy GREEN Friday
Make new memories this Thanksgiving weekend by exploring the upside of outside in your hometown. We're turning "Black Friday" GREEN with outdoor adventures the whole family will enjoy!
More...
Reservations Refreshed
The County of San Diego Department of Parks and Recreation launched its first online reservation system nearly two decades ago. Cutting edge for 2003, the system allowed customers to book classes, camps and campsites online, without the assistance of a reservation agent. It worked for a small agency with limited offerings...
More...
Free Movies in Parks
Eleven years. That's how long we've been showing free movies at parks across San Diego County – and this year is no different with more than 150 movies projecting on a large inflatable screens now through October.
More...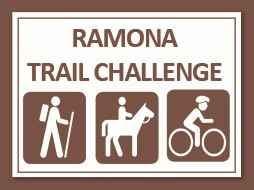 Ramona Trail Challenge
03/01/19
We're proud to partner with the Ramona Chamber of Commerce to help host the 2019 Ramona Hiking Challenge. Six unique trails make up a diverse set of hiking destinations, from Mt. Gower County Preserve to Santa Ysabel West County Preserve.
More...
Creating a Safe Digital Space with SD Nights
Since 2017, SD Nights has provided a safe environment for teens during critical hours. Short for Safe Destination Nights, the program was designed to equip teens with essential life skills through various activities, while simultaneously empowering them to make a difference in their communities.
More...